October 25, 2015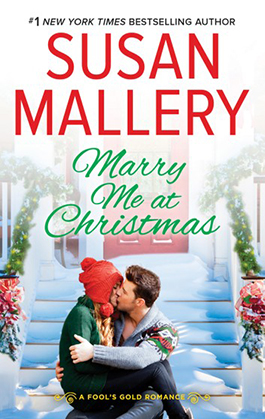 Fool's Gold, Book No. 20
Reissued: October 25, 2016
A small town girl wishes on a Christmas star... as seen on the Hallmark Channel USA.
To bridal boutique owner Madeline Krug, organizing a Christmas wedding sounds like a joy—until she finds out she'll be working closely with the gorgeous brother of the bride, movie star Jonny Blaze. How will a small-town girl like her keep from falling for the world's sexiest guy? Especially with mistletoe lurking around every corner!
Jonny came to Fool's Gold looking for normal, not for love. Happily-ever-after only happens in the movies. Still, nothing about this quirky town is quite what he expected, and "ordinary" Madeline is the most extraordinary woman he's ever met. Refreshingly honest, disarmingly sweet. Achingly beautiful.
Planning the perfect wedding leads to candlelit dinners and strolls through snow-covered streets. And Madeline finds Jonny in real life even more captivating than her celebrity crush. But will the action star be brave enough to risk his heart and step into the role of a lifetime?
The Mass Market Reissue of Marry Me at Christmas includes the Fool's Gold novella, A Kiss in the Snow!
"Mallery's fun and inviting 19th novel set in Fool's Gold, Calif. (after Thrill Me) richly layers deft characterization onto a charming, interconnected community...glittering installment."
Publishers Weekly
Top Pick in Romance, December 2015! "The holiday season proves all things are possible in this engaging story. . .Mallery has delivered another winner!"
Christie Ridgway, BookPage
"Sparks fly in the town of Fool's Gold when a Christmas wedding throws together a bridal boutique owner and a movie star who's also the brother of the bride in a heartwarming holiday tale by the always-marvelous Mallery."
Omnivoracious, the Amazon Book Review
"[A] charming and heartwarming story by one of the queens of the genre."
Jill Smith, RT Book Reviews
A book to read if you love Nora Roberts... "As heartwarming as a hot chocolate by the fireside, this romance delivers a happily-ever-after that will delight you down to your toes."
BookBub
"MARRY ME AT CHRISTMAS is like a Hallmark's Christmas movie, a sweet romance of a handsome hero who finds out that not only Madeline is not an ordinary woman, but also she is an extraordinary, honest, beautiful woman."
Kimia Safavi, Fresh Fiction
"Susan Mallery has mastered telling the tales of romance! Marry Me at Christmas is a delight and an excellent addition to the Fool's Gold series."
Mysteries Etc
"Marry Me At Christmas by Susan Mallery is just the right romance novel to get readers into the upcoming holiday season!... Marry Me At Christmas is a sweet read, sure to make its fans sigh in happiness."
Sonya Field, Hypable
"Oh Susan Mallery, you've done it again! Another fantastic release from the Fool's Gold series!...consistent with the quality of the previous books, a sweet story and the local quirky characters popping in!"
Jac, Two Moms Reading
I have been waiting for Madeline to finally get her moment with Jonny and I loved every minute of it! Madeline is such a sweetheart and I loved the way Susan Mallery wove their story together!! And to top off an already great book, adding Christmas in the mix, made it all the much more magical.
Steph and Chris's Book Reviews
MARRY ME AT CHRISTMAS is a story about loss and not being afraid to put your heart out there again. It's a story about being able to tell those you love that you love them, instead of spending money to show your love.
Viki Ferrell, Fresh Fiction
Marry Me at Christmas by Susan Mallery is a delightfully upbeat and charming holiday romance between a small town business owner and a popular movie star...This absolutely heartfelt and entertaining love story will leave readers with a smile on their face as they revisit old friends and meet new ones during this latest stop in Fool's Gold.
Book Reviews and More by Kathy
5 Stars! "MARRY ME AT CHRISTMAS - another amazing Mallery Holiday Romance that has it all: The town of Fool's Gold with all its amazing inhabitants - a beautiful Romance between two amazing people - moving & adorable moments & SNOW"
BJ's Book Blog
My Rating: A "This is everything a Christmas story should be...sweet and fun and full of those tiny magical moments that left me with a smile on my face. I love how overwhelmed Madeline is by the thought that Jonny could even be interested in her. And I love how aware Jonny is about his "famousness"...Tons of fun and laughs. The story left me with a smile on my face and happier for having read it."
Smitten with Reading
"With Mallery's books I always think "just one more chapter" which turns into one more and one more and then an hour has gone by. Here it is so easy to get caught up in getting to know these two characters, learning their motivations, and falling in love with both of them as they fall in love with each other...you definitely won't mind getting to know the sexy, grounded, good-hearted action star and the small town girl who steals his heart."
Romantic Reads and Such
Chapter One
"Do they know they look like pumpkins?"
Madeline Krug appreciated that Rosalind asked the question very softly. One of the first rules of running a successful wedding gown store was to not insult the bride or her wedding party. And while she normally would have mentioned that to her assistant, in this case the question was kind of legitimate.
It wasn't just the very full skirt on the bridesmaids' dresses. A billowing that was oddly, well, pumpkin shaped. It wasn't the colors, which ranged from tangerine to coral to, um, pumpkin. But when those two elements were put together with a pale green crown of leaves and tiny flowers on each of their six heads, the overall effect was just a little…pumpkiny.
"The bride told me this is exactly what she wanted," Madeline murmured. "That she's been dreaming about her wedding since she was a little girl and these are the dresses she pictured. She was thrilled we could find them."
Madeline smiled at her assistant. "Every bride has a perfect dress and a vision for what she wants her wedding party to look like. Our job is to find out what that dream is and make it come true."
Rosalind looked doubtful, but nodded, as if taking mental notes.
The fortysomething brunette had been working at Paper Moon for about a month now. With her kids all in middle and high school, she'd wanted to return to the workforce. Madeline needed someone she could depend on and Rosalind came with good references. So far, they were doing well as a team, although Rosalind still found the various bridal idiosyncrasies surprising.
Madeline returned her attention to the wedding party. She double-checked the fit of each dress, confirmed the bride was giddy with happiness, then promised a final pressing before the dresses were picked up the Wednesday before Thanksgiving. Because the, um, pumpkin wedding was the Saturday after the holiday.
By three o'clock the bridal party had left. Madeline retreated to her office to finish up some paperwork. After processing invoices, confirming a couple of deliveries and noting when her favorite bridal designer's new summer collection would be available, she leaned back in her chair and allowed herself a rare moment of contentment.
She loved her job. She wasn't saving the world or finding a new source of renewable energy—but in her own small way, she helped people be happy. Brides came in all shapes, sizes and temperaments, but for the most part, she loved each one of them. She loved the look on their faces when they found the right dress. The happy tears were so satisfying.
Sure there was drama, but she could handle a little drama. It kept things interesting. And when the drama was over and the bride emailed her a picture of herself on the big day, well, nothing was sweeter.
She was just plain lucky, she thought. If not in love, then certainly in every other part of her life. Because—
"Hello, Madeline."
Two simple words spoken in a kind voice. That should have been fine. Or even nice. Instead, Madeline stared at the well-dressed woman standing in the doorway of her office and knew that her life was about to change. She couldn't say how or why, but as surely as the sun would rise in the east, when Mayor Marsha Tilson showed up looking slightly expectant, things happened.
"Ma'am," Madeline said, instantly coming to her feet. Because that was how she'd been raised. You stood when an older person came in the room.
Mayor Marsha had been the mayor of Fool's Gold for longer than Madeline had been alive. She was, in fact, California's longest serving mayor. She was much loved, warm, caring and had a way of knowing things that no one had ever been able to explain. Madeline had always liked her. She found her a little scary, but she liked her.
"Do you have a minute?" the mayor asked, already walking into the small office and taking a seat.
"Of course."
Madeline was a little relieved when Dellina Ridge, Fool's Gold's event planner, followed the mayor into her office and offered a reassuring smile. Dellina was a good friend. If something bad was about to happen, not only would Dellina have warned her but she would have offered moral support and brownies.
"As you know," Mayor Marsha began when they were all seated, "the holidays are a busy time here in town."
Madeline nodded. Fool's Gold loved to celebrate in every way possible. From mid-November until after the first of the year, there was always something going on. Lucky for her, it was an especially slow time at Paper Moon, which meant she got to enjoy everything going on around her.
The rhythm of a bridal shop was different from regular retail. Come January second, when a lot of stores slowed down, she would be juggling newly engaged brides-to-be. Many a proposal would be made on either Christmas Eve or New Year's Eve. But that wasn't why the mayor was here.
Mayor Marsha glanced at Dellina, who scooted to the front of her chair and gave another smile.
"It's me," Dellina admitted, sounding a little rueful. "I'm totally scrambling. The Hendrix family is planning a huge party on New Year's Eve, there are a dozen holiday events and three weddings, and I'm up to my eyebrows in invitations and details. I can't take on one more thing."
Madeline still wasn't sure where this was all going. "If you need me to help with something, I'm happy to," she said slowly. Of course she would be there for her friend. But why wouldn't Dellina have come to her directly? They'd known each other all their lives. Why involve the mayor?
Dellina shifted slightly. "Yes, well, it's more than my usual panicked call to come stuff goodie bags. It's a wedding."
Madeline looked between the two of them. "I don't understand," she admitted.
"There's going to be a wedding the Saturday after Christmas," the mayor said happily. "You know how I love a wedding. This will be a small affair. Right now the guest list is at forty. I suspect it will grow a little, but shouldn't be more than fifty or fifty-five people. There's no location issue—everything will be at the bride's brother's house. The catering is taken care of."
"Ana Raquel is handling that," Dellina added. "She had a cancellation and can fit in the wedding. So it's just the basic details. Dress, invitations, decorations. I know it's a lot to ask…" Her friend shook her head. "I'm sorry. We haven't asked yet, have we?"
Mayor Marsha patted Dellina's hand. "I'll do the asking, dear. Madeline, your town needs you to plan a wedding. Are you up for it?"
"I don't know," Madeline admitted. "I've never done anything like that before. I work with brides and we talk details, but to take a wedding from start to finish, even a small one, would be challenging."
Which was as close to saying no as she was going to get, she thought as the mayor continued to look at her with that steady, supportive You'll do what I say because I have powers and you've never once refused me anything look that was both famous and inescapable.
"I have a master list and I'd be happy to help," Dellina added. "I'm sorry to put you in this position."
"Don't apologize," Mayor Marsha said firmly. "I'm to blame. When I spoke with Dellina earlier today and she said she wasn't available, we brainstormed who we could ask. You're the one we both thought of."
Madeline got the subtext of the message. Dellina had been as trapped as she was now. When Mayor Marsha wanted something done, she was unstoppable. Which meant saying no wasn't an option.
Planning a wedding in seven weeks, over the holidays, when she'd never done much more than be a bridesmaid and sell wedding dresses? Were they crazy?
"Sure," she said easily. "I'm in." She frowned as she realized she didn't know anyone who had recently gotten engaged, or even who was planning a holiday wedding. "Oh, who's getting married?"
"Ginger Blaze."
The name meant nothing. "She's not local. Is her fiancé…"
Madeline felt her heart stop. Physically stop. There had been steady beating, then nothing. That was followed by a distinct popping sound in her ears along with panic. Cold, slimy, I-can't-breathe panic.
"Blaze," she whispered. Quite the trick what with her heart stopped and her lungs not working. "Blaze as in Jonny Blaze?"
Mayor Marsha nodded. "Ginger is his younger sister. I believe she lives in San Francisco. She's in a PhD program. Something with biology or genetics. Mr. Blaze wasn't clear. However, he asked me to help him find someone to plan the wedding with him. That's when I approached Dellina. You know the rest, my dear."
Jonny Blaze? The tall, handsome action-movie star who had recently moved to a ranch outside of town? The man who had a body like a god and a smile that reduced perfectly intelligent, articulate women to puddles? Jonny Blaze, who was, unbeknownst to him, of course, her movie-star boyfriend?
No. She couldn't. She had a mad crush on him. Every time she'd seen him in town, she'd stared like an idiot. She'd babbled and he hadn't been closer than twenty-five feet. She couldn't imagine being next to him, let alone working with him.
I can't. There. She'd said it. Or at least thought it. Which was practically the same thing. She couldn't.
"From what I can tell, Mr. Blaze is a very nice man," the mayor was saying. "He wants to fit in. Be a part of the community. As you know, we take the well-being of our citizens very seriously. Mr. Blaze needs a refuge from the trappings of his career and we can provide that. The quiet, everyday kind of life he craves."
"The wedding is going to be close friends and family," Dellina added. "It's small and intimate. I swear, if I had an extra second, I'd take it on."
"You're already doing too much," Madeline said, pleased she could speak. "I know you. You're running in forty-five directions."
If it were anyone else, she thought frantically. But it wasn't and saying no had never been an option.
She drew in a breath and told herself she was strong. She was mature. At the very least, she could keep from squealing in his presence.
"I'm happy to help," she said.
"Excellent." Mayor Marsha nodded. "You're meeting with him in an hour."
Of course she was, Madeline thought, not even surprised. Because that was how the mayor got things done. A well-planned ambush followed by a lack of time to come to one's senses.
An hour. Not nearly enough time to lose five pounds, have a makeover and become glamorous and sophisticated. Why, oh, why hadn't she learned French? Or aikido? Anything that would make her interesting for Jonny Blaze? She briefly wondered if aikido was the martial arts training or the dog breed, then sighed. Too late to worry about that now. As it was, she was going to be stuck being herself.
"I'm going to tell him I don't have any experience with planning a wedding," she said. "I need to be honest about that."
The mayor smiled. "I would expect no less, my dear."
Jonny Blaze had traveled all over the world. He was used to the insular world of a movie set and the contrast of whatever town they were in during filming. He'd lived in tents, high-rises and, for six gut-churning weeks, on a fishing boat. But none of that had prepared him for the quirky, busy, oddly happy place that was Fool's Gold.
Everyone here was…nice. They said hello to each other, knew each other's kids' names and, as far as he could tell, celebrated every known holiday and a few he'd never heard of. He'd been looking for a place to hide and instead he'd found himself in an unusual town that he couldn't seem to ignore, but also couldn't bring himself to embrace. It was an unexpected conundrum.
He stepped into Brew-haha for his two o'clock meeting. The barista greeted him by name and asked if he wanted his usual. Had he been anywhere else, he would have known she'd remembered his usual because of his movie-star status. Except in Fool's Gold, the barista treated everyone exactly the same. An experience so refreshing that coming to the local coffee shop became one of his favorite things to do when he was in town.
He paid for his order, then went to wait. Because this wasn't LA where a star struck employee raced to get him his coffee. He had a turn, just like everyone else.
Jonny had grown up normal, so he'd been unprepared for how starring in action movies would change everything about his life. Now, over a decade later, he was used to slipping into restaurants through a back door and knowing paparazzi were going to be lurking around every corner. He'd tried living in a secure condo, then had bought the obligatory walled estate, high in the Hollywood Hills. When that didn't keep out the unwelcome, he'd gone looking for something better.
He'd found it about twenty-five miles outside of Fool's Gold, California, on a cattle ranch with a rambling old house and a barn that he'd converted to an shop and workout room. He was close enough to town that he could get his normal fix at Brew-haha, but far enough away that he could revel in the quiet.
He'd sold the cattle to another rancher and had leased the grazing rights to the same guy. Now, as Jonny took his coffee, he grinned. Yup, he had grazing rights. What could be more middle America than that?
He turned his attention to the half dozen tables at the small coffee shop. He was supposed to be meeting a Madeline Krug. The mayor had recommended her to help him plan his sister's wedding.
He didn't see anyone fitting her description, so he claimed one of the two empty tables. He figured she would find him when she arrived.
The store had big windows and shelves on the walls. There were a few items for sale, along with some harvest decorations. He saw pumpkins and a couple of ceramic turkeys. On one of the windowsills was small replica of the Bluenose, a famous racing and fishing schooner from Nova Scotia.
As he sipped his latte, he tried to recall how, exactly, the mayor had found out about his sister. He didn't remember mentioning Ginger or her engagement, but he must have because it wasn't public knowledge. Maybe his friend Shep had said something. All he knew for sure was one minute he and the mayor had been talking about the upcoming Thanksgiving parade and the next she'd been asking about Ginger's wedding. He'd admitted he was lost when it came to planning, and before he'd known it, the mayor had offered to find someone who could help. Not two hours later, she'd set up this meeting.
The door to Brew-haha opened and a woman entered. She was in her late twenties, with shoulder-length blond hair and blue eyes. She looked slightly rushed and a little frazzled. Not nervous, he thought as he studied her. More determined, with a little unsure thrown in.
Her gaze landed on him. Instantly her shoulders squared and her chin went up. Madeline, he thought, recognizing her from the mayor's description and appreciating how she looked more resigned than thrilled. He supposed most people wanted to be liked. He did, too, but for the right reasons. Anyone who was impressed the second they met him left him looking for the closest exit. Because they weren't there for him. They were there for Jonny Blaze, Action Star. Wariness was a lot more honest than gushing, and in his world, honesty was a sought-after commodity.
Madeline crossed the small café and stopped by his table. Her gaze was direct as she offered him a slight smile. "Mr. Blaze, I'm Madeline Krug. Mayor Marsha said you'd be expecting me."
"Jonny," he said easily, rising and pulling out a chair for her. "Nice to meet you."
"Likewise."
She sat down and opened a large black tote. From inside, she pulled out a pad of notepaper and a pen. After placing both on the table, she drew in a breath and turned her attention to him.
"I understand your sister is getting married."
"So she tells me." He smiled.
Madeline stiffened, then drew in a breath. "December 26? The Saturday after Christmas?"
He nodded.
"All right. So here's the thing. I work at Paper Moon. It's a bridal gown store. I'm the manager there. I work with brides every day. I handle the details of their gowns, veils and often shoes. I outfit the wedding party. Sometimes I have to act as referee between various family members. Grandma doesn't always approve of the bride's choice."
He'd seen enough reality TV to know that was true. But he had a feeling Madeline hadn't yet gotten to the point of their conversation. She had something to say and he was going to be patient until she got it out.
She looked at her blank pad of paper, then back at him. "I'm not a professional wedding coordinator. I'm not even an amateur one. I've seen a lot of weddings and my friend Dellina, who's an actual event planner, has offered to give me direction, but this isn't what I do for a living. Having said that, I'm happy to help you with this, if you'd like. Or you can bring in someone from Los Angeles or wherever. It's totally up to you."
Jonny couldn't remember the last time someone told him she couldn't do the job. Everyone generally overpromised and underdelivered. It was a fact of life. They wanted his money or the prestige of saying they worked for him. The former made sense. People had to make a living. But the latter genuinely flummoxed him. The fame might screw up his life, but it wasn't real. It was imposed on him. Underneath the big name on the billboard, he was just a guy doing a job. A really weird job, but still. There was nothing magical about his abilities. He wasn't saving the world. He was jumping out of planes and punching fake bad guys. Not the stuff of legends.
None of which was Madeline's problem, he thought, looking at her.
She was pretty enough. Her makeup was light and he would guess none of her features had been altered by the careful skill of a plastic surgeon. She was dressed in a simple black dress. The style was plain and didn't really suit her. No doubt she picked her clothes to blend in, rather than stand out. In her line of work, the bride would be the star.
"Just to confirm," he said, picking up his latte. "You've never planned a wedding. You're open to having me hire someone else, but if I need your help, you'll be there."
"Yes."
"Okay, then. Ginger and I don't have any family, but her fiancé does. He'll have ten or twelve relatives attending. The rest of the guests will be Ginger's and Oliver's friends. As of my last conversation with my sister, we're at forty-four guests."
Madeline picked up her pen, then put it down. "Is this conversation or information?"
He thought about his sister. She was sweet and funny and, by far, the smartest person he knew. She wanted a small, quiet celebration. Simple. Ordinary. She would hate anything big or flashy. A wedding planner from LA would want to design an extravaganza. Something that could make her career. Jonny wanted Ginger to be happy. Nothing else.
Madeline Krug, wedding-gown store manager of Fool's Gold, California, would understand what Ginger wanted. And she had no portfolio to build at Ginger's expense.
"Information," he said firmly. "I want you to help me with my sister's wedding."
Madeline resisted the need to ask the obvious question. Why would anyone want her to plan a wedding? Although it was possible the answer would be clear to someone who wasn't suffering from being so incredibly close to Jonny Blaze.
She was pleased that she was able to breathe. And her heart seemed to be working fine. Maybe it was because the moment was so surreal. Here she was in the town where she'd grown up, sitting across from Jonny Blaze.
Up close he was just as handsome as he was on-screen. His eyes were a beautiful shade of deep green and his hair was glossy and dark. She wondered if that was his natural color, because it had been light brown, blond and red for various roles.
He was broad-shouldered, with muscles. Thin, but not skinny. When he spoke, he sounded incredibly normal. She simply couldn't reconcile what was happening, although she was going to try to go with it. The alternative was to run screaming into the street and that didn't look attractive on anyone.
"What are you thinking?" he asked unexpectedly.
Madeline blinked. No way she could answer that question. Not directly at least.
"That you're a regular person."
He flashed her another smile. "Thanks for noticing. Some people don't."
"How strange. To go through life with people thinking they know you when they don't," she said without thinking. "It must be both good and bad."
"It is." He sipped his latte. "We should talk about your fee."
Madeline felt her eyes widen. "What? Fee? No. You're not paying me. This isn't a job. Mayor Marsha asked me to help out and I'm happy to."
He put down the drink and leaned toward her. He was so close she could see all the colors of green and gold in his irises. It was mesmerizing. As was he.
"You can't do this for nothing," he told her.
"Why not?"
She tried to control her breathing so she wouldn't start hyperventilating. The man was impossibly handsome. The line of his jaw, the shape of his mouth. She could sit here and shiver and stare all day long.
"You're doing a job."
"I'm helping out a fellow citizen. There's a difference." She drew in a slow breath. "I'm not doing this because you're Jonny Blaze. I'm doing this because you live here." She shrugged. "The store is quiet this time of year and I'm looking forward to seeing a wedding through from start to finish. Normally all I get to deal with is the wedding gown."
He didn't look convinced, but that didn't matter. There was no way he was going to pay her. That was just icky.
"Tell you what," she said with a grin. "You figure out what you think is a fair amount to pay me and then you can donate that amount to HERO—our local search and rescue program."
He studied her as if she weren't anything he'd encountered before. "You're a little strange."
"Just like the town?"
"Yes, and equally unexpected." He nodded slowly. "All right, Madeline. I accept your offer to help and I will make a generous contribution to your favorite charity."
"Deal. Now I should probably talk to your sister to get her thoughts about what we're doing."
"Good idea."
He gave her Ginger's email address and cell number.
"Set up a time to talk. If she's not in the lab, she's studying or working on her dissertation."
"Okay. I'll email her as soon as I get back to the office. Once she and I have spoken, I'll have a more clear idea of what she wants. Then I'll put some ideas together and you and I can talk about them."
"Great. I appreciate you helping me. I want Ginger to have the wedding of her dreams."
"Then we'll make that happen."
They both rose. She held out her hand to shake, realizing a half second too late that it might be a mistake. He took her hand in his and they shook. People did it thousands of times a day. Maybe millions.
But she'd never done it with Jonny Blaze, so was unprepared for the hot, melty sparks that erupted all over her body. Or the way her chest got tight and her thighs tingled.
Lightning, she thought with amazement. The lightning her mother had always told her about. The lightning that meant the women in her family had found the one.
No, she told herself firmly as she pulled back her hand. Not lightning. Star power. There was a very big difference and she would do well to remember that.