August 22, 2017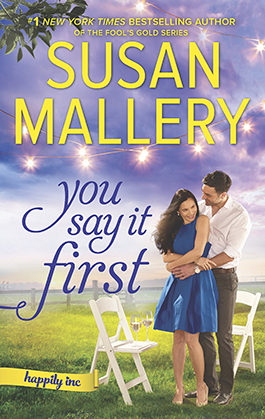 Happily Inc, Book No. 1
Welcome to Happily Inc, a wedding destination founded on a fairy tale!
The #1 New York Times bestselling author of the Fool's Gold romances invites you to visit Happily Inc, a wedding destination founded on a fairy tale!
Sculptor Nick Mitchell grew up in a family of artists—unconventional is his norm. To bide his time waiting for a new commission to come through, he takes a day job as a humble carpenter at a Happily Inc theme wedding venue. Still, the job has its perks. Mainly the venue's captivating owner, Pallas Saunders, who can't hide her inner nonconformist from him. Although he won't let love consume him, for ecstasy with an expiration date, he's all in.
Pallas adores Weddings in a Box, but when the time comes, she'll have to give it up to work at her mom's bank. She'll miss the weddings—every weekend, something different, and all the more thrilling with her handsome new hire enticing her to let loose.
When a desperate bride begs Pallas for something that's never been done before, Nick urges her to embrace the challenge. She doesn't belong behind a desk. Pallas knows in her heart that he's right—but he's wrong, too. . . because where she really belongs is in his arms.
YOU SAY IT FIRST has been named a Best Book of 2017 in Romance by the editors at Amazon.com!
Amazon Editors
"Delightfully flirtatious and deceptively easy dialogue . . . Mallery (the Fool's Gold series) excels at creating protagonists who grow individually as well as together on the way to their destined happy ending."
Publishers Weekly
"The first in ever-popular Mallery's new Happily Inc series has the author's signature blend of humor, poignancy, and small-town charm."
Booklist
"There's a lot to like about this first book in Mallery's new series, Happily Inc, about a California desert town that's known as a wedding destination. The romance is sweet and hot, the writing is quick and easy...A great choice for a weekend read."
Kirkus Reviews
"A plentiful cast of supporting characters—Nick's artist brothers are memorable—add depth to the plot, while colorful descriptions of the wildly creative wedding plans and settings are sure to fascinate. VERDICT An inventive heroine who comes into her own and a caring hero who figures out what's important give in to love in this lighthearted romance."
Library Journal
"A catchy and heartwarming book...Susan Mallery once again proves why she is one of the top selling romance writers."
Mysteries Etc
"...a beautiful, uplifting, and well-told story."
Write-Escape
"Susan Mallery is masterful at creating characters with depth and who are totally lovable. She certainly did not disappoint with the characters in You Say It First, the first book in the Happily Inc series. From the very first page, I was all smiles."
The Novel Lady
"A lovely story full of drama, feelings, history, friends laughs and heart, keeping the feel of the Fool's Gold series that is so beloved but giving the characters, both new and familiar, a place to grow and thrive."
I Am, Indeed - the Place to Find Your Next Read
"You Say It First was a satisfying romance... readers will be completely entertained... Susan Mallery is one of the best, most solid writers out there today in terms of small town romances."
Harlequin Junkie
5 out of 5 stars! "You Say it First can be summed up in five words: 'Laughter before happily ever after.'"
Hopeless Romantic
"If you're looking to start a new series with love, laughter, family ties, and a HEA then you'll want to read this wonderfully woven story by the always talented Susan Mallery."
Forget the Housework, I'm Reading
5 out of 5 Stars! "You don't want to put it down."
Mean Girls Luv Books
"This the first book in Susan Mallery's new series Happily Inc. I'm already sold."
Nicole's Book Musings
5 Stars! "...a sweet romantic story with some heartbreak, healthy dose of laughter and a sprinkle of hotness to sweeten the deal."
Living in our Own Story
"[A] whole new series by Susan Mallery that will make you believe in romance, love and happily ever after all over again...filled with friends, hot delicious men and even animals that are just so fun to read about."
Melena's Reviews
"With her Fool's Gold series, Mallery is known for bringing readers quirky, humorous stories that somehow manage to be lighthearted with depth. And with Happily Inc she does it again! SQUEEEE! As we've come to expect, her characters are great with the zingers but can bring you to tears … and not just with laughter. They have issues – real ones that you can totally get behind – and they have to deal with them before they can find their happy."
Romantic Reads and Such
Grade: A- "I had an absolutely marvelous time in Happily Inc... the town was boosted by an absolutely fantastic public relations ploy...Pallas learns to stand on her own two feet, to stand up to her abusive mother, and most importantly, to learn that love isn't earned, it's given."
Reading Reality
4.5 Stars TOP PICK! "For Mallery's legion of fans, the launch of a new series is time to rejoice!"
RT Book Reviews
"If you enjoy visiting Fool's Gold than Happily Inc will be your next favorite locale."
Kimberly, Books n' Kisses
Kitty: 5 Stars "Susan Mallory is the ultimate Romance writer and knows just how to get you to invest your heart in her stories. I loved every aspect of You Say It First."
Amanda: 4.5 Stars "You Say it First is the first book in a brand new series from Susan Mallery and I couldn't be happier...Susan Mallery has a knack for creating flawed characters and giving them opportunities to figure it out for themselves."
Guilty Pleasures Book Reviews
"Susan Mallery has done it again!...I laughed so much throughout this book and now I can't wait to sink my teeth into book 2."
April's Little Corner
5 Stars! "This new series has the feel of Fool's Gold, but with its own personality... definitely a must read!"
Shannon's Book Blog
The Editors at Amazon.com have named You Say It First a Best Book of the Month in Romance!
YOU SAY IT FIRST has been named a Best Book of 2017 in Romance by the editors at Amazon.com!
Amazon Editors
"[A]fter all this time of reading Mallery I still enjoy her books like I'm reading her for the first time...Once I started reading You Say it First I was so glad that I decided to move on to the next se"
Romancing the Readers
5 Butterflies! "You Say It First is a great start to the Happily Inc. series... The storyline was fast-paced and it had enough twists and turns to keep you turning pages right through to the satisfying conclusion...I think it's safe to say that You Say It First and the entire Happily Inc series will be a hit!"
Buried under Romance
"You Say It First introduces Susan Mallery's Happily, Inc series, and all signs point to a series that should prove as popular as the author's Fool's Gold series...Readers will empathize with their struggles toward greater maturity and self-awareness as they conquer the barriers to their HEA...If you are new to Mallery, you will find that she is one of the best in the genre at creating a vibrant community inhabited by likeable, relatable characters."
The Romance Dish
5 Stars! "Sweet, heartwarming, and romantic."
Fire and Ice Book Reviews
5 Stars! "Susan Mallery has the uncanny ability to write amazing small towns that you fall in love with. The characters are fun, each have their own personality and you grow to know and love each of the townspeople."
TBR Book Blog
"Just like her Fools Gold series, You Say It First sucked me right into Happily Inc."
Jen's Reading Obsession
5 Stars! "You Say It First will absolutely take your breath away and bring you into this perfect new town."
Inside the Mind of an Avid Reader
"[Mallery] retains all the humor and charm that made the Fool's Gold series so readable."
Veena, The Good, the Bad and the Unread
"Happily Inc sounds like a pretty cute place to live...a view of real love in all its messy forms."
Calliope, Random Book Muses
"I thoroughly enjoyed this book and I can't wait for the next one. Although I miss Fool's Gold, Happily Inc appears to have many of the elements that made Fool's Gold so special."
Live Vi-Carrie-ous
"You Say It First is a sweet, funny, sizzling story and a great introduction to Susan Mallery's new Happily Inc. series."
Heroes and Heartbreakers
"This was a wonderfully written first book in this series. I can't wait to see who ends up with each other. It is going to be a fun ride that I can't wait to continue. If you are like me, and hadn't read Susan Mallery yet, pick this one up. You won't regret it!"
The Book Maven
"[Susan Mallery] has a gift for writing and her ability to convert thoughts, desires and real-life relatable situations so beautifully into words and captivate her the reader is amazing… You Say it First is a lighthearted romance book and perfect to read on the weekend, on holiday or even while waiting for the kids at the playgroups."
Yeah Lifestyle
"A delightful, fun-loving novel, full of sizzling passion and brilliant comforts. Cannot recommend this enough!"
The Writing Garnet
Chapter One
"Don't take this wrong, but I really need you to take off your shirt."
Pallas Saunders winced as she said the words—this was so not how she usually conducted an interview. But desperate times and all that.
Nick Mitchell raised his eyebrows. "Excuse me?"
A valid semiquestion and certainly better than simply bolting which, hey, he could have done.
"It's an emergency," she said, waving her hand in what she hoped was a can we please move this along gesture.
"I'm going to need more than that."
"Fine." She drew in a breath, then began talking. Fast. "I have a wedding in less than an hour and I'm one Roman soldier short. J.T. ran off to LA because his agent called about an audition. Note to self. Do not hire actors during pilot season. Anyway, I need a Roman soldier. You're about the same height as the other guys and you're here because you need a job, so take your shirt off, please. If you look halfway decent, I'll sponge tan you and you'll carry a very skinny girl in on a palanquin."
"On what?"
"One of those sedan chair things. I swear, she probably doesn't even weigh a hundred pounds. I don't think she's eaten in three months. You look strong. You'll do great. Please? There's a check at the end."
Not a very big one, but money was money. And Nick Mitchell had answered her ad for a part-time carpenter, so he must be at least a little desperate for money. A feeling Pallas could so relate to.
"You want me to carry a girl in on a palanquin for her wedding?"
Why were the pretty ones always dumb, she wondered with a sigh. Because Nick certainly qualified as pretty. Tall with dark hair and eyes. His shoulders were broad and from what she could see, he looked to be in shape, so what was the big deal?
"The name of my business is Weddings in a Box." She gestured to the walls around them. "This is box-like. People come here to get married. I do theme weddings. The couple today want a Roman wedding. You'd be stunned at how popular they are. The Roman wedding includes the palanquin for the bride. Please, I beg you. Take off your shirt."
"You're weird," Nick muttered as he unbuttoned his shirt and tossed it onto her desk.
Hallelujah, she thought, walking around to view him from the back. As she'd hoped, he looked good—with broad shoulders and plenty of muscle. No massive tattoos, no ugly scars. Not that she objected to tattoos, but so few of them were Roman wedding appropriate and she really didn't have time to do her thing with concealer. As it was, Nick would fit in with the other guys perfectly.
"You're hired, but we have to hurry."
She grabbed him by the hand and dragged him down the hall toward the male cast dressing room. Because themed weddings required a cast of, if not thousands, then at least three or four. Roman weddings had the palanquin carrying crew and all the servers were dressed in togas. Not original, but the clients were happy and that was what mattered.
She pulled Nick into the large, plain room with racks of costumes at one end and a counter with lit mirrors above at the other. Three guys in various states of undress were already there. Two were stepping into white togas while the third was studying himself in the mirror.
Alan glanced up from his self-appraisal and smiled. "Hello, stranger."
"Not for long," Pallas muttered. "Please help Nick get ready for the wedding. Nick, Alan. Alan, Nick." She glanced at her watch and shrieked. "We have less than an hour, people." She turned to Nick. "Ever done fake tanning?"
"Do I look like I do fake tanning?"
Until that second, the man in front of her had been little more than a capable shoulder upon which she could rest one quarter of a bride. Now she actually looked at him. At the dark eyes watching her with a combination of disbelief and wariness. The firm set of his oddly attractive mouth. He had big hands, she noted absently, then did her best not to laugh.
Big hands? Seriously? Because she had time for that in her life?
She walked over to the counter and opened a drawer. Inside were gloves sealed in plastic. Gloves coated with fake tanning product she could buy in bulk for a very happy price.
"I'm about to rock your world," she told him cheerfully. "Let's go."
Nick Mitchell felt as if he'd stepped into an alternate universe. One where the crazy people ruled and the rest of the citizens were left to stumble along, trying to keep up.
Before he knew what was happening, the woman who was supposed to be interviewing him for a carpentry job was rubbing some weird-ass glove thing up and down his back.
"Even strokes," she said as she worked. "It takes five minutes to dry, then you check for streaks. Do your arms and chest, then your legs. Front and back, please."
She slipped off the gloves and held them out to him. "Can you do this?"
Her expression was two parts earnest and one part frustrated—as if the world conspired to make her day more difficult.
He thought about repeating that he was just there for the carpentry job, but realized she already knew that. Okay then—fake-tanned Roman soldier it was. If nothing else, he would have a good story to tell his brothers.
He put on the gloves and began rubbing on the fake tan goop. It was less gross than he'd thought. Pallas showed him his toga costume and asked the other guys to get him in place.
"I have to go get changed," she said as she hurried to the door. "If you need anything, ask Alan. He knows all."
Alan winked at her. "That's true." Once the door was closed, Alan turned back to him. "And your story is?"
Nick took off the gloves, wiped his hands on a towel sitting on the counter, then stepped out of his jeans. "I'm a carpenter. I answered an ad." He put the gloves on again, bent over and rubbed up and down his legs.
"I see. Want some help with that?"
Nick didn't bother looking up. "I'm good."
"Well, I'm Alan, as you heard. Those two are Joseph and Jonathan. I call them the J's. They're high school students earning money on a Saturday. They play football."
One of the teens looked up. "It's basketball, Alan. We keep telling you."
"Whatever. It's sports and they're all the same." Alan turned back to Nick. "I've been on Broadway. That's how I met Gerald. He was my mentor, and then he retired and moved here. I came for the winter weather and stayed. After Gerald died, I moved to LA, but when I'm here, I do this because it's fun."
As he spoke, Nick realized that the other man was a lot older than he'd first thought. At least in his late forties.
"People really have Roman weddings?" he asked.
"You have no idea. There are cowboy weddings, too, but I don't do those." He shuddered. "Horses are the worst! And they smell. I do like a good princess wedding though. I'm a very handsome courtier, if I do say so myself. But today we're Romans. All hail Caesar."
Ten minutes later, Nick stared at himself in the mirror. He was wearing an honest to God toga. Or at least a costume. The short white skirt came to midthigh. The top tied over one shoulder and Alan had given him a circlet of grape leaves to stick on his head. Now, as he laced up sandals, he thought maybe he wouldn't be telling his brothers what he'd done, after all. They would never let him live it down.
"It's very simple," Alan told him when he was dressed. "The bride sits on the palanquin. We lift it up, carry her in. She gets off and we carry it out. The J's and I also serve at the reception, but I doubt Pallas expects that of you. So you're free to go."
Nick didn't bother pointing out that he'd yet to have his interview. To be honest, he was having his doubts about the job. He'd wanted something to fill his day while he figured out what he was going to do about his commission. While this place offered plenty of distraction, it wasn't exactly what he was looking for.
Pallas returned. She'd replaced her jeans and T-shirt with a simple dark green dress that brought out her hazel eyes. Her long brown hair was still in its fancy braid and he didn't think she was wearing any makeup. Of course she wasn't the bride—she was here to make the bride's dreams come true.
She walked up to him and nodded in approval. "You look great. Thank you for doing this. I would be in so much trouble if you hadn't agreed to help out. Did Alan tell you what was going to happen?"
"We carry in the bride, then quietly leave."
"Right. Oh, we still have to do our interview. I have no excuse for scheduling it so close to a wedding except to say I must have gotten the days wrong. There's just so much to do."
Emotions filled her eyes. He read worry, panic and more than a little determination. An interesting combination.
She squared her shoulders. "One crisis at a time, as Gerald always said. We are ready for the wedding. Gentlemen, if you'll take your positions, please."
She led the way downstairs. Nick wasn't sure what to expect, but quicker than he'd anticipated, they were in a room with a frazzled-looking bride, several bridesmaids dressed in what he would guess were Roman-inspired gowns and an honest-to-God palanquin.
He moved closer to the sedan chair and studied the carving on the sides. They were hand done, then attached to what he guessed was a lightweight metal frame.
Pallas got everyone in position. The bride took her seat. Alan took the front right position, which Nick would guess meant he was in charge.
"On three, gentleman. We lift slowly, in unison and with our knees." Alan smiled at the bride. "Not that we have to worry about you, darling. You're no bigger than a minute and so lovely in your gown. It's designer, isn't it? Lucky, lucky you."
The bride visibly relaxed. "Thank you. I love my dress."
"It loves you back. Shall we? On three."
Nick waited for the count, then raised the bride. The crossbar had a padded, curved notch for his shoulder. He found he only had to use his hand to steady it, not support it. As Pallas had promised, the bride was light and the weight easy to bear.
He went with the others down the hall. A photographer snapped pictures. Huge double doors opened for them and they walked into a massive room with at least a twenty-foot ceiling.
Guests lined up on either side of the large aisle and a groom in a fancier version of toga waited up at the carved altar. Despite the fact that it was the middle of the afternoon, flickering torches provided light.
They reached the end of the aisle. Alan directed them to lower the bride. When she was with her Roman groom, they carried the palanquin back out. Alan ushered them to a huge outdoor courtyard set up for the reception. The palanquin was set down in a corner.
"People love climbing all over it for pictures," Alan told Nick. "All right, you're free to go." He pointed to a door. "Go through there. You'll find a staircase that will take you up to the second floor. The dressing room is at the end, on the right."
"Thanks."
Nick followed his directions. When he went inside, he saw the staircase. Before he reached it however, he spotted a partially open door.
"No way," he murmured as he moved closer.
He opened the door wider, swore under his breath and stepped inside.
Several large carved wooden panels hung from tracks where they could slide into place. He stepped to the side and visually followed the track. He would guess it led to the big ballroom he'd just been in.
These panels—easily ten feet tall and twice as wide—were exquisite works of art. The carvings depicted what he would guess was early palace life. There were several tableaux of a royal court and a few outdoor country scenes. Sure, the arrangements were cheesy, but the carving was incredible. Each of the characters in the first relief seemed ready to come to life. He traced the etched lines that created dimension in a few elegant strokes only to feel rough edges. He looked more closely and saw the panels were dinged, dry and in need of some serious TLC. Was this the job Pallas wanted a carpenter for?
He went back out the way he'd come, circling around the now-empty courtyard. He crept into the back of the ballroom and saw the carved Roman panels in place on the walls. They were as brilliant as the other ones and even from a distance, cried out to be restored.
And here he'd thought Pallas was looking for someone to repair windows or build cabinets. To work on something like this… Had Atsuko known about the panels? Was that why she'd suggested Nick apply for the job? Because while he'd grown up working with glass, in the past decade he'd fallen for wood.
Glass was cold and mercurial, but wood was alive. Wood had a soul.
He retreated back the way he'd come and headed up the stairs. The whole carry-a-bride-after-being-fake-tanned thing had put him off the part-time job, but now that he'd seen the panels, he knew he didn't have a choice. He had to restore them and make sure they were in good enough shape to last for future generations.
Dramatic much, he thought to himself as he entered the dressing room. Except the panels were worth the drama and oddness that was Pallas's wedding business. They deserved the very best of him and he was determined that they would get it. As much as he might want to deny it, he was, down to his bones, an artist. His father's blood ran through him and with it came the need to create. Or in this case, restore.
Griffith Burnett was used to being the center of attention—whether it was at a symposium on how micro housing could transform the poorest regions of Africa as well as answer the needs of the homeless in the urban centers of Europe and the United States, or at a black-tie fundraiser for a children's charity where he was the featured speaker. He was comfortable in front of a crowd, or so he'd thought. He found himself slightly less at ease in a room filled with nearly a dozen women, all staring at him with varying degrees of interest.
No, he thought as he scanned the faces. Nearly a dozen, less one. Kelly wasn't looking at him at all.
"Everyone, this is Griffith Burnett. You should know him. He owns that tiny house company you've all seen off the highway. He grew up here. His folks are Mark and Melinda. They moved to New Mexico six months ago. Griffith here wants to join our book club."
He waited for the inevitable, "Why?" but the women only smiled and nodded. Except for Kelly, who kept her attention firmly on the cupcake she held.
"Let me introduce you to everyone," Sally said. They'd walked in together and somehow she'd assigned herself as his hostess for the evening.
She went around the room, spouting names faster than he could remember them, starting with a mother of three and ending with the reason he was here in the first place.
"This is Kelly Murphy." Sally frowned. "Didn't you two go to high school together? Or is she closer to your brother's age? I can't keep you kids straight. And what about Helen Sperry? You're the same age, aren't you?"
"I'm a year older," Helen said, offering her hand. "Hi. I think we had a social studies class together."
"I'm sure we did." He waited until Kelly had no choice but to look at him. "Hello, Kelly."
"Griffith." The word was clipped, her tone less than friendly, matching the wary expression in her big, brown eyes.
She looked good. He supposed there were some men who would be put off by the absence of frills, but he liked that about her. The sharp edges, the lack of guile. What you saw and all that. She was smart, she was determined and she wasn't going to make it easy. He'd always been the kind of guy who liked a challenge so he was looking forward to the latter.
"Why are you here?" she asked.
Beside him, Sally stiffened. "Kelly, honey, what's wrong? Griffith wants to join our book club."
"And read Eat, Pray, Love? I find that hard to believe."
"Is it my reading skills you doubt or my interest in the subject matter?"
The corner of her mouth twitched. He would guess annoyance rather than humor, not that he would mind seeing her smile.
"A woman's journey to emotional and spiritual fulfillment hardly seems like something you'd enjoy," she murmured.
"Do you think you know me well enough to decide that?"
Now everyone was watching and listening. He stepped closer to Kelly. Close enough that she had to tilt her head slightly to hold his gaze.
"I find everything about a woman's journey interesting. I enjoy discovering how she's different than I expected. I like the anticipation."
Someone's breath caught. Not Kelly's. Her gaze narrowed. "Next month we're reading an autobiography of Eleanor Roosevelt."
"Lucky me. I've always been an admirer."
Liar.
She didn't say the word out loud, but she sure as hell thought it. Griffith held in a grin as he watched her struggle with her temper. He suspected she was imagining smashing the cupcake she held into his face, turning on her heel and walking away. Only she wouldn't. She would restrain herself. He couldn't wait to test that restraint in every way possible.
But not tonight. Tonight was simply the next step in his plan. He wanted someone in his life—he'd decided that serial monogamy was his road to happiness and he hoped he and Kelly could come to a mutual understanding.
"Did you think the author spent too much time deconstructing her divorce in the book?" she asked. "Should we have gotten right to the journey?"
He'd thought there might be a test, but he'd hoped it would be harder. "She doesn't deconstruct her divorce. In fact there isn't much detail as to what went wrong. She does make it clear the divorce was painful."
Something he understood personally. Screwing up was never pleasant but to mess up something that fundamental sucked in a big way.
"And the part in Thailand?" Kelly asked.
"You mean Indonesia?"
She handled defeat with grace. Instead of saying something sarcastic, she flashed him an unexpected smile—one that hit him in the gut with the subtlety of a 2x4—and offered him her cupcake.
"Welcome to our book club."
"Thank you."
"Now if you'll excuse me, I need a glass of wine."
*
"He was nice," Helen said as Kelly drove the handful of miles between Petal Pushers and their respective houses.
No need to ask who "he" was, Kelly thought. She'd just endured the longest three hours of her life in the same room as Griffith. She'd listened to him analyze the book, make jokes and generally charm every woman within earshot. Except her, of course. But then she was the only one to have survived being rejected by Griffith, so she was special.
"Incredibly nice," Kelly murmured.
"Now you're being sarcastic."
"I can't help it. Doesn't it strike you as the least bit odd that he wanted to join our book club? There's that mystery one in La Conner. Why doesn't he join that one?"
"He's local, like us."
Griffith was many things but "like us" was not one of them. "Can you at least admit it's slightly odd that he showed up?"
Helen considered the question. "It's unexpected, yes. But it's not a bad thing."
"Not for you."
Helen angled toward Kelly. "Come on. Griffith is gorgeous. You have to admit looking at him isn't a hardship."
No, it wasn't, not that she wanted to admit anything of the kind. He'd always been one of those guys who captured the attention of every female in a three-block radius. Of course he was tall, with sandy brown hair and brown eyes. But it wasn't the individual features so much as how they came together into one incredibly appealing man.
"I still wish he'd gone to the mystery book club. There are guys there. He'd feel more comfortable."
"Maybe you should tell him."
Kelly heard the amusement in her friend's voice and groaned. "You're enjoying this, aren't you?"
"A little." Helen shook her head. "Come on. Is it really so bad to have a guy like Griffith interested in you? It's been six months since you and Sven broke up. It's time to move on. Griffith is a great moving-on kind of guy."
"So speaks the woman who hasn't dated since her divorce six years ago."
"I'm very comfortable in my 'do as I say, not as I do' role in our relationship. Come on. You can't tell me you're not the tiniest bit flattered. You have to be."
"Why? Because he's staring at me? I don't know what he wants, but I doubt it's what's you're thinking."
"Why would you say that?"
Kelly turned at the corner and headed toward her friend's house. "I'm very clear on my place in the universe."
"Meaning?"
Kelly waved her hand in front of her midsection. "I'm average at best. Not beautiful, not pretty, not ugly. Just regular."
If Griffith was looking for a fancier version of a Murphy, he should check out Olivia. Kelly hadn't seen her sister in forever, but she would literally bet the farm on the fact that Olivia was still gorgeous and glamorous and wearing a designer something. Not cargo pants bought on sale from an online farm equipment supply outlet.
"It's a family thing," she continued. "I take after my dad. We're sensible people. Hardworking. Ordinary. My mom and sister are the…"
"Exotic tulips in the garden that is your life?" Helen asked drily.
"Not the analogy I was going to use, but sure. It works."
"You're selling yourself short," Helen told her. "Worse, you're saying bad stuff about my friend and I don't appreciate that. You're not ordinary. You're lovely and funny and hardworking."
"It's amazing you don't want to have sex with me right now."
"Stop. It." Helen glared. "I mean it. Kelly, you're great. Griffith finally got his head out of his ass long enough to notice you."
"I thought you liked him."
"I do. I used the phrase for effect. What did you think?"
"Well done."
"Thank you." She shifted to face Kelly. "I'm serious. You're obviously over Sven. Take a chance on a great guy."
"We don't know he's great."
"I've heard rumors."
Kelly had, too. The problem wasn't Griffith. Not totally. Nor was it her still recovering from the end of a long-term relationship. She was embarrassed to admit that while Sven had surprised her when he'd said it was over, she really hadn't missed him. Or felt all that upset. Which was sad because after five years, shouldn't she have been at least a little crushed? What did it mean that she'd gone on without much more than a blink? Hadn't she been emotionally engaged at all? And if she hadn't been, what was the reason? Had he not been the one or was she somehow stunted?
Not a question she really wanted answered. Although Sven had pointed out that she'd never been in love with him. Which was true, if disconcerting to find out from a man.
"What's the worst that could happen?" Helen asked.
"If I slept with Griffith?" The list was really long—where was she supposed to start?
"Whoa, I was going to say if you talked to Griffith. I find it fascinating you jumped right into bed with him, so to speak."
"Please don't."
v"Too late now. You've subconsciously told me everything."
"I haven't and it wasn't subconscious anything. I spoke out loud." Kelly pulled into Helen's driveway.
"You're trying to distract me with facts," her friend said with a grin. "But I see you for what you are."
"I'm afraid to ask what that is."
"As you should be." Helen lowered her voice. "You're a sex-starved single woman who desperately wants to get involved with Griffith but you're afraid."
Words spoken in jest that were just a little too close to the truth. Not the sex-starved part. Sex was fine, if not the amazing, earth-shattering experience the media claimed, but still. She did find Griffith intriguing and attractive and…
"He's annoying."
"Liar, liar."
"He can be annoying."
"Better."
"I want him to leave me alone."
Helen sighed. "At the risk of repeating myself, liar, liar."
Kelly growled in the back of her throat. "You're annoying."
"That is absolutely true. Just say it. You're interested. Intrigued, even. He's hot and you have no idea why he's suddenly interested, but you don't hate it."
"What I hate is being that transparent."
Helen hugged her, then opened the passenger door of the truck and slid to the ground. "Only to me, my sweet. Only to me. My advice is simple. Say yes."
"He hasn't asked me anything. In fact all he's done is stare at me and be everywhere I am."
"Then go find out why. Oh, and start keeping condoms in your purse. Just in case."
With that, Helen waved and walked into her house. Kelly waited until the living room lights came on before backing out of the driveway and heading home.
Kelly had no plans to take the condom advice, but confronting Griffith might not be such a bad idea. Maybe she could find out what he was up to. Because as nice as it would be to think he was interested in her, she knew for a fact her luck wasn't that good. Besides, he was Griffith Burnett. Even if she got him, she would have no idea what to do with him. Sad, but true.