Posted May 23, 2023
Dear Reader,
In this newsletter
Get a signed copy of The Happiness Plan – and meet me in person!
The Vineyard at Painted Moon update
Review Crew signups
THE HAPPINESS PLAN BOOK SIGNING
If you've always wished to have a signed book by me, now is your chance to get one! I'll be signing all copies of The Happiness Plan preordered through Third Place Books in Lake Forest Park, Seattle. If you're in the area, you can pick it up in person at my book signing on June 22 at 7 pm. If you're not local, then Third Place Books will be happy to ship the book to you.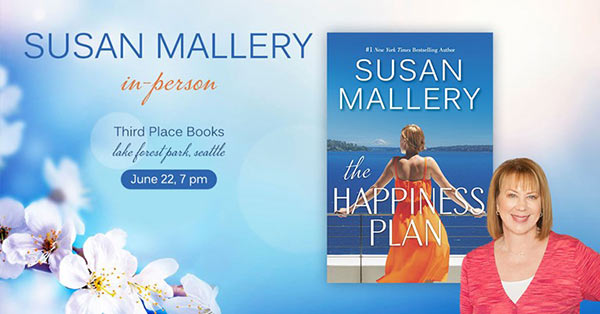 I would love to see you there! I miss connecting with my readers face to face. I miss hearing your stories. Many of my books have been inspired by things readers have said to me. The event is free, though I do encourage you to support Third Place Books, an independent bookstore, to thank them for hosting us.
We'll have so much fun! I'll chat about my inspiration for The Happiness Plan, share my writing process, and answer your questions. We have an exclusive bookmark that was created just for this book signing, plus I'll be giving away three gorgeous door prizes—The Happiness Plan book bags filled with goodies you'll love.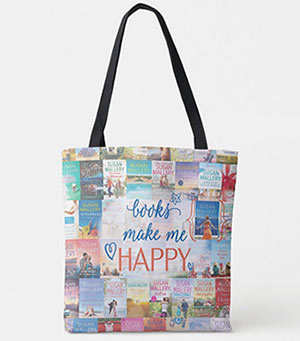 ABOUT THE HAPPINESS PLAN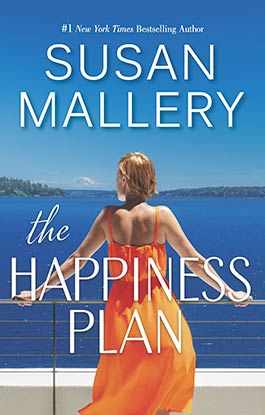 Three women search for joy in #1 New York Times bestselling author Susan Mallery's new novel of hope, heartache, and the power of friendship.
Heather is happy . . . ish. She has a successful business, a cute but contemptuous cat, and best friends Daphne and Tori who know where she's broken and love her anyway. So why does she feel crushed when her ex gets serious about someone new? No problem, she has a plan. More connections will hold her together while her world falls apart, so she finally reaches out to the stranger who might be her dad.
Daphne isn't having an emotional affair, despite what her husband believes. He started the rift in their marriage when he said they weren't ready for a baby. They used to be the closest couple she knew. Can they find their way back to one another before it's too late?
When Tori forms an inconvenient crush on Daphne's brother-in-law, she suppresses her feelings. Until her apartment floods, and she moves in with the dog-loving doctor. If things go wrong, she could lose her friends. . . but if they go right, she could lose her heart.
ORDER IN PRINT: Amazon | B&N | Books a Million | Walmart | Bookshop | Target
ORDER THE EBOOK: Kindle | Nook | Apple Books | Google Play | Kobo
ORDER THE AUDIOBOOK: Audible | iTunes | Libro | Kobo Audio
+ TO GOODREADS WANT-TO-READ SHELF
THE VINEYARD AT PAINTED MOON
The Vineyard at Painted Moon is now available in mass market paperback! It was originally published in hardcover in 2021, so if you haven't read it in the past two years, you haven't read it. This story quickly shot up to become a reader-favorite. I've lost track of how many readers have told me they think it's the best book I've ever written. Which, I must confess, was such a relief to me. I was particularly nervous about this book's release because I did something in this story that I had never done before. The reaction has been so heartwarming! I love that my readers allow me to stretch myself as a writer, and that you're happy to go along on the journey.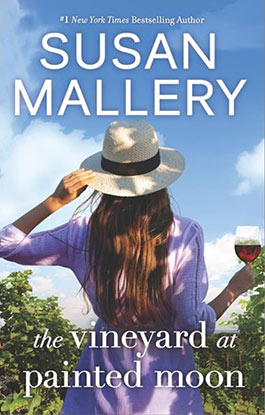 Step into the vineyard with Susan Mallery's most irresistible novel yet, as three women search for the perfect blend of love, family and wine.
Mackenzie Dienes seems to have it all—a beautiful home, close friends and a successful career as an elite winemaker with the family winery. There's just one problem—it's not her family, it's her husband's. In fact, everything in her life is tied to him—his mother is the closest thing to a mom that she's ever had, their home is on the family compound, his sister is her best friend. So when she and her husband admit their marriage is over, her pain goes beyond heartbreak. She's on the brink of losing everything. Her job, her home, her friends and, worst of all, her family.
Staying is an option. She can continue to work at the winery, be friends with her mother-in-law, hug her nieces and nephews—but as an employee, nothing more. Or she can surrender every piece of her heart in order to build a legacy of her own. If she can dare to let go of the life she thought she wanted, she might discover something even more beautiful waiting for her beneath a painted moon.
ORDER IN PRINT: Amazon | B&N | Books a Million | Walmart | Bookshop | Target
ORDER THE EBOOK: Kindle | Nook | Apple Books | Google Play | Kobo
ORDER THE AUDIOBOOK: Audible | iTunes | Libro | Kobo Audio
JOIN THE REVIEW CREW
Every time I release a new book, I invite Members of my mailing list to sign up to join the Review Crew. This isn't the opportunity to win just one book—this is a chance to win all of my new books for free in the mail, from here forward. The open slots are filled at random, but once you have a spot, it's yours to keep as long as you keep meeting the deadlines for review.

Sign up now on the Contest page at SusanMallery.com! Selected readers will be announced in less than a week, so don't put it off or you might miss your chance.
Happy reading, and hope to see you soon!
---