Posted January 24, 2023
Dear Reader,
I'm thrilled to tell you that a new edition of Married for a Month is available now after having been out of print for years. A lot has changed since I wrote this book more than 20 years ago. It was fascinating to read this book and see how both the world and my writing have changed. I hope you enjoy Taylor and Jonathan, the town and all the characters. The book is funny, sexy and ultimately a very satisfying read.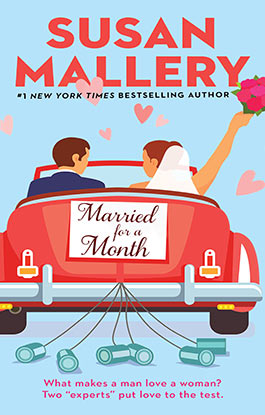 Two former lovers argue over the key to everlasting love in this charming, funny, and steamy romance from the "one of a kind" (RT Book Reviews) author Susan Mallery.
Taylor McGuire, a hardworking single mom with a PhD in psychology, believes that compatibility is the key to a successful marriage. Bestselling relationship guru Jonathan Kirby believes it's sexual chemistry. So when these two former lovers meet up on national TV, it's more than just a difference of expert opinion that sets the sparks flying between them.
And when Taylor puts forth her theory on love, Jonathan can't help but challenge: "Want to bet?" So begins an unconventional contest—forty couples involved in a monthlong mock marriage for a chance to win one million dollars—which puts Taylor's and Jonathan's professional reputations on the line. As the competition heats up, so does the attraction. And as they fall for each other, the two experts realize that love is not a science...sometimes it's just magic.
BUY IN PRINT: Amazon | B&N | Books a Million | Target | Walmart | Bookshop
BUY THE EBOOK: Kindle | Apple Books | Nook | Google Play | Kobo
COMING SOON
I try not to wish my life away, but it's difficult when I'm so excited about a brand-new book that's coming out in March. The Sister Effect is a standalone story in which I pay tribute to the deep, abiding, and complex love between sisters. I cannot wait to hear what you think.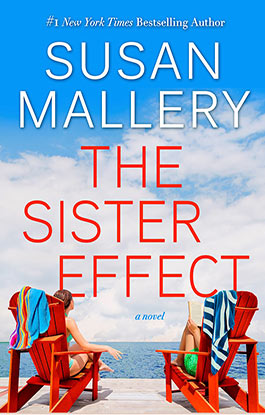 Beloved bestselling author Susan Mallery—with wisdom, compassion and her trademark humor—explores the nuances of a broken family's complex emotions as they strive to become whole in this uplifting story of human frailty and resilience.
Finley McGowan is determined that the niece she's raising will always feel loved and wanted. Unlike how she felt after her mom left to pursue a dream of stardom and her grandfather abandoned her and her sister Sloane when they needed him most. Finley reacted to her chaotic childhood by walking the straight and narrow—nose down, work hard, follow the rules.
Sloane went the other way.
Now Sloane is back, as beautiful and damaged as ever, and wants a relationship with her daughter. She says she's changed, but Finley's heart has been bruised once too often for her to trust easily. But is her reluctance to forgive really about Sloane, or worry over losing what she loves the most? With the help of a man who knows all too well how messy families can be, Finley will learn there's joy in surrendering and peace in letting go.
PREORDER IN PRINT: Amazon | B&N | Books a Million | Target | Walmart | Bookshop
PREORDER THE EBOOK: Kindle | Apple Books | Nook | Google Play | Kobo
PREORDER THE AUDIOBOOK: Audible | iTunes | Libro | Kobo
SHARE YOUR STORY OF SISTERHOOD
My greatest joy as a writer comes from digging in to explore the complexity of human relationships. No one is all good or all bad, and rarely is a person all right or all wrong. The relationship between sisters is one of the most primal relationships in many women's lives. A sister is someone who was there from the very beginning of a person's life, or nearly so, and her presence or absence looms large.
I'd like to invite you to share a personal story of sisterhood. Submit your story HERE. I'll share some of your stories on the website, in an upcoming newsletter, and on social media. You're welcome to submit anonymously if that makes you feel more comfortable.
Here's a story that Vickie W, a member of the Susan Mallery All Access group, shared previously:
Vickie W: My sister and I are only thirteen months apart, so we were always very close. When she went to school a year before me, I was devastated! I had lost my best friend and my companion in mischief. But, worse, she got to go to school and learn how to read. That was a skill that I had pretended to do for years, as I flipped pages, looked at pictures and "read" the story. I was so sad that first day that she left on the big yellow bus that I cried most of the day. When she came home, she told me all about her exciting day, but she also noticed how sad I was. When she asked me why, I told her it was because she got to learn how to read and I didn't. At that point, she pulled up my little desk and gave me my first lesson in reading, which was actually what she had learned that day herself. Every day during her first year, she taught me her lessons and I practiced while she was at school. The result was that the following year when I could attend school myself, I already knew how to read and I have been doing it voraciously ever since!
Happy reading!
---